Chicken With Tripe Puppy Raw Dog Food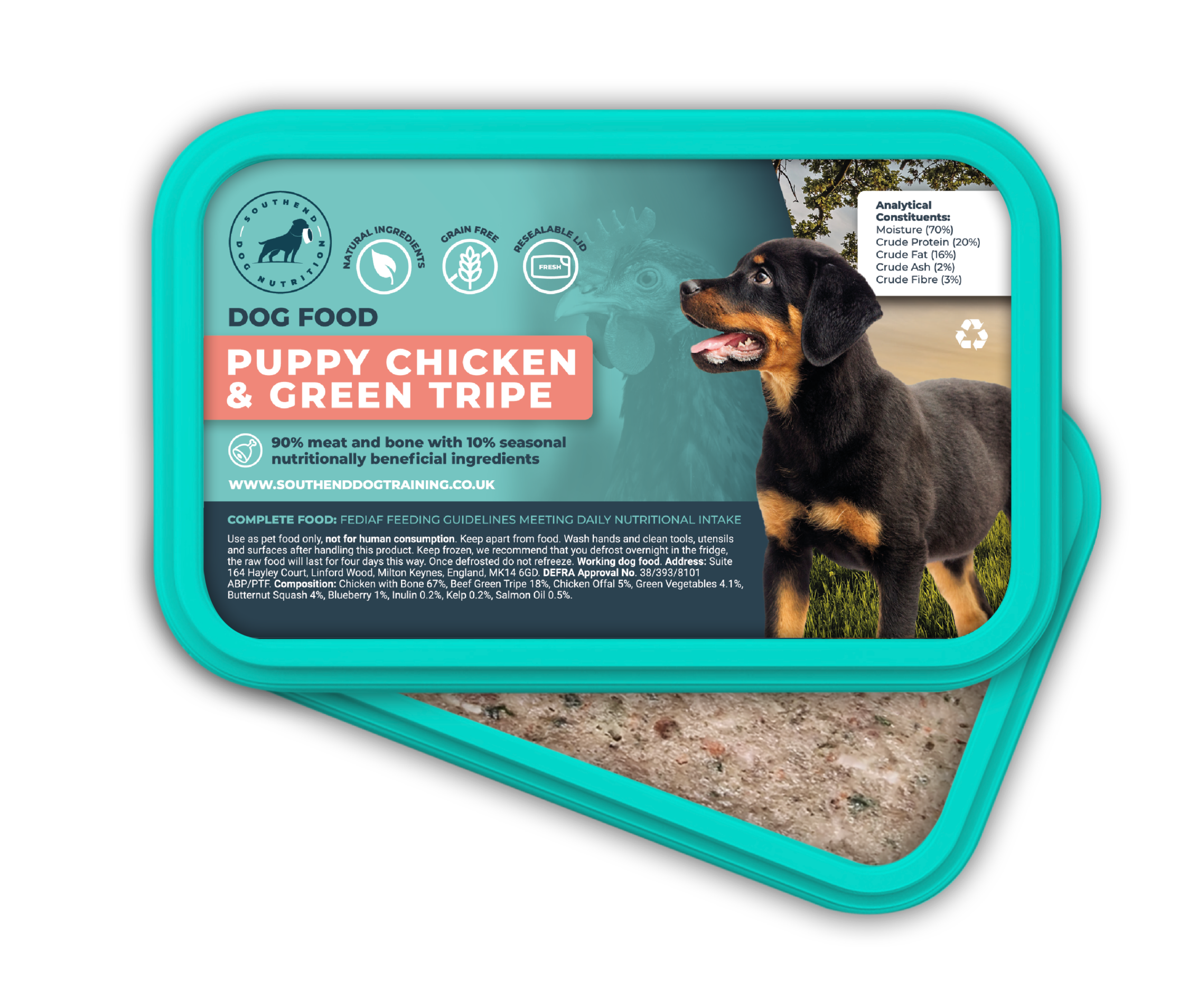 Chicken With Tripe Puppy Raw Dog Food
Introducing Southend Dog Training's Chicken With Tripe Puppy Raw Dog Food – a specially curated meal to give your young pup the best start in life. This thoughtfully crafted blend combines the lean protein of chicken with the nutrient-rich benefits of tripe, providing a balanced and wholesome diet designed for your puppy's growth and development.
ANALYTICAL CONSTITUENTS
Moisture 72%, Crude Protein 14.6%, Crude Fat 9.2%, Crude Ash 3%, Crude Fibre 0.9%
FEEDING GUIDE
You can use our RAW FEEDING CALCULATOR to calculate your dogs daily food allowance; you can then work out your freezer space and how often you would like a delivery.
Please note: Use as pet food only. Not for human consumption. Keep apart from food. Wash hands and clean tools, utensils and surfaces after handling this product.
For more information visit our FEEDING GUIDE.
| | |
| --- | --- |
| Weight | N/A |
| Weight (Kg) | 10kg (20 Tubs), 15kg (30 Tubs), 20kg (40 Tubs), 30kg (60 Tubs), 40kg (80 Tubs), 50kg (100 Tubs), 5kg (10 Tubs), 1kg (2 Tubs) |
Whilst DPD aim to deliver within 24 hours we cannot guarantee it, The food is good for 48 hours and in some cases longer (weather dependent) so long as the food is firm to touch on arrival it is perfectly safe to refreeze. Our food is manufactured frozen, so refreezing it once providing it is firm to touch, is perfectly safe for dogs.
Minimum order for delivery
Please note the minimum order for delivery is 5kg, we need at least 10 tubs in the box to ensure it is as cold as possible on arrival.
We recommend that you defrost overnight in the fridge; the raw food will last for 4 days this way. Once defrosted, do not refreeze.
Chicken 90% (Chicken with Bone, Chicken Heart, Chicken Liver), Butternut Squash, Green Vegetables, Blueberry, Salmon Oil, Chicory Root, Kelp