Joint Care 120 Tablets – Southend Dog Supplements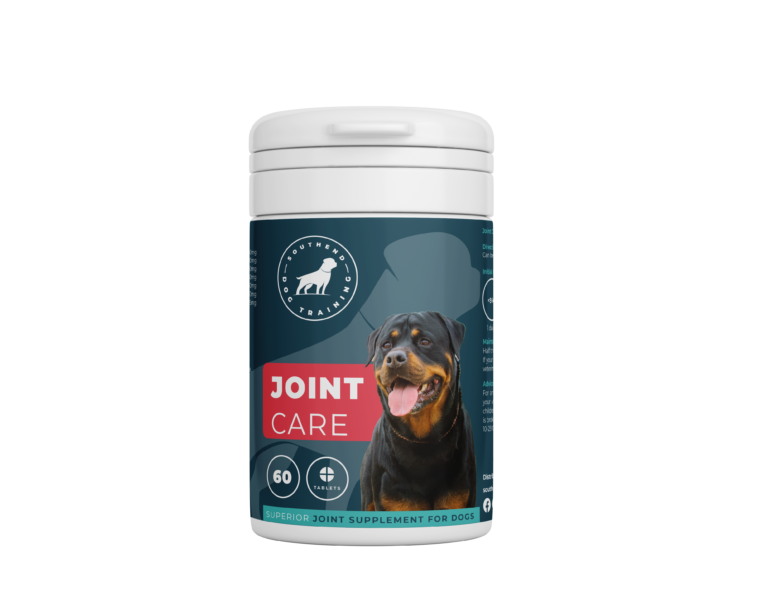 Joint Care 120 Tablets – Southend Dog Supplements
Providing joint support for dogs
Joint Care is designed to support joints, cartilage and synovial fluid integrity. It combines Glucosamine HCl, Chondroitin, two natural anti-inflammatories and three antioxidants. It is available in a divisible, beef flavoured tablet for larger dogs and a palatable sprinkle capsule for smaller dogs and cats. These options allow easy administration and excellent compliance.
CLICK HERE FOR Full Data Sheet and Description
Per tablet:
Glucosamine HCl 500mg
Chondroitin Sulphate 90% 440mg
Boswellia Serrata 80mg
Turmeric 50mg
Vitamin C 50mg
Zinc 30mg
Manganese 2.5mg
I ndications / Aims
– Lameness
– Joints swelling and tenderness
– Licking or biting of joints
– Unwillingness to play, run or walk
– Difficulty with stairs or jumping
– Change in temperament
Directions for use:
60 / 120 tablets
Initial Period (First 4-6 weeks)
<10kg – 1 Tablet Daily
10-19kg 2 Tablets Daily
20-39kg 3 Tablets Daily
40+kg 4 Tablets Daily
Maintenance Period (After 6 weeks)
Half the initial quantity.
60 Tablets

120 Tablets

<10 kg

<10 kg

120

days supply

240

days supply

10-19 kg

10-19 kg

60

days supply

120

days supply

20-39 kg

20-39 kg

40

days supply

80

days supply

40+ kg

40+ kg

30

days supply

60

days supply